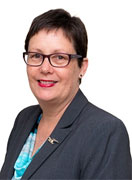 Dr Lynne McKinlay is Senior Medical Educator for Cognitive Institute.
She has specialist qualifications in paediatrics, rehabilitation medicine and medical administration. In addition to her work for Cognitive Institute, Dr McKinlay works as Medical Director, Learning and Workforce, at Children's Health Queensland, Australia.
She has a special interest in clinician wellbeing and her research draws on her training with Dr Tait Shanafelt at the Stanford Medicine WellMD Center.
Dr McKinlay's education role includes conducting workshops to assist healthcare workers with communication and other non-technical skills, improving safety and reliability, building resilience and avoiding burnout, and leadership. She also conducts one-on-one intensive education and training with clinicians.
Missed our wellbeing and team performance series? Catch up on-demand
This series shares insights and techniques to sustain physical and mental wellbeing, and team performance, through COVID-19 and beyond, including RapidCheck™, an operational team briefing and debriefing tool for leaders. You can watch the series in your own time and share with colleagues.